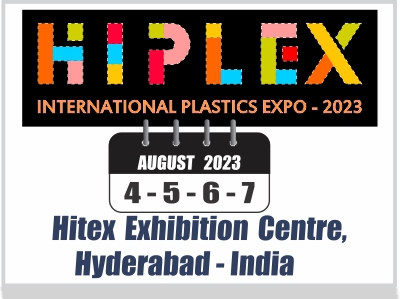 HIPLEX 2023: HITEX Hyderabad Plastics Expo
HIPLEX 2023: HITEX Hyderabad Plastics Expo
Hyderabad, the destination for the HIPLEX 2023, is a fast growing metro and capital of developing state poised to create landmarks in all sphere of development. Telangana and Andhra Pradesh, the two states drawing much attention & huge investments are poised to grow at phenomenal pace supported by most liberal, proactive & industry friendly policies of government.
It is a fact that local entrepreneurs have achieved serious business of large magnitudes at local events. They are more comfortable and find this opportunity encouraging and favoring to take important business decisions. The result is ever growing business for both Exhibitors and Visitors.
HIPLEX 2023 will showcase latest technology and machinery used in Manufacturing of Raw Materials and various products made of Plastics and Petrochemicals with Participation from all over the world.
Highlights:
20,000 Sq. Meters
50,000+ Visitors
500+ Exhibitors
$50 Million Expected business
Exhibitors Profile:
Speciality Chemicals and Master Batches
Process Machinery
Printing and Packaging
Raw Materials
Moulds and Die
Post Processing Equipment
Quality Testing Equipment
Finished Products
R&D
VA Exhibitions: Event Organiser
A young team of professionals led by individuals with over 15 years of experience in organizing successful trade fairs in India and abroad
Organized successful trade fairs catering to various important industries like foundry, food products, food processing, packaging, dental industry, chemicals, dairy, etc.
Team with in house expertise in all aspects of trade fair organization, right from ideation to exhibitor and visitor promotion to onsite management
Headquartered in Hyderabad, Branch office in Mumbai and business associates across Europe, Africa, Middle East, China, Korea, Thailand and Singapore
Event Name: HIPLEX
Category: Plastic
Event Date: 04 – 07 August, 2023
Location: HITEX – Hyderabad International Trade Expositions – First Floor, Trade Fair Office Building, HITEX Exhibition Center, Izzat Nagar, Hyderabad, Telangana 500084 India
Organizer: VA Exhibitions – #406, Westend Mall, Road no. 36, Jubilee Hills, Hyderabad, Telangana 500033 India
Phone: 8185055500, 8186055500
Email: info@hiplex.co.in
Timings: 09:00 AM – 05:00 PM
Disclaimer:The information furnished has been collected from varied sources, and hence, is subject to change. To confirm the show schedule kindly contact the show organiser.