Event Navigation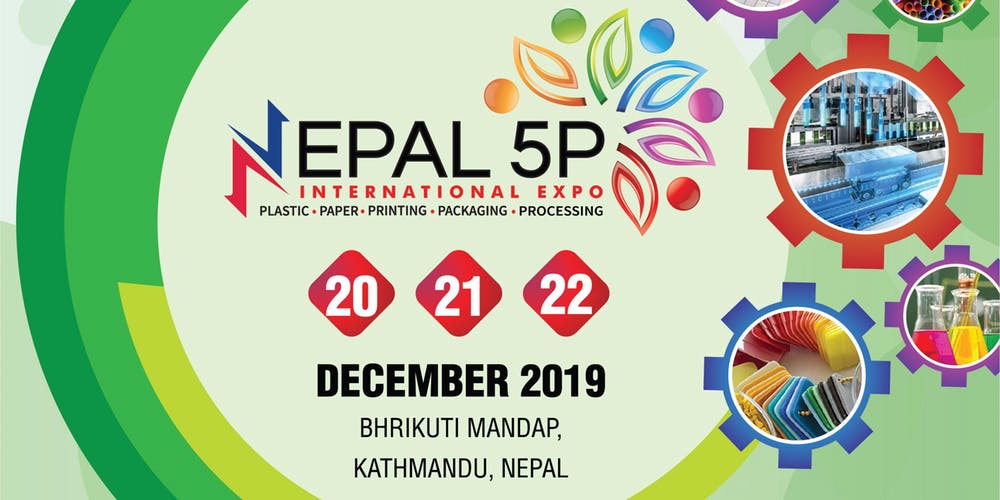 Nepal 5P International Trade Fair 2019
Distinguished solely because the most wide-ranging industrial display of its kind in the Kingdom of Nepal; Nepal 5P is while not a question, the foremost crucial commerce, and technology transfer platform, covering all the economic aspects of Plastics, Printing, Packaging, Paper & organic compound sectors all underneath one roof.
At Asian country 5P, we provide high-toned world technology manufacturers and retailers within the field of Plastics, Paper, Printing, Packaging & process, unnumberable business opportunities among an adept, well-managed and totally equipped setting.
NEPAL 5P campaigns to heighten the bilateral affair of Asian countries with the globe, presenting a combined assortment of the most recent up-to-date industrial technology.
Why Nepal 5P 2019?
• Centralized Location.
• Nepal's Per Capita Income reached 1,003.641 USD in Jul 2018, compared with 866.476 USD in Jul 2017, an all-time high since 1964.
• The GDP growth change in Nepal has risen drastically,6.5% per year, closely following India at 6.6%.
• The GDP of Nepal is at an all-time high of 2447.2 crores USD.
• Agriculture, Garment, Food & Beverages are the main industrial sectors of Nepal, all of which require Plastic, Printing, Packaging & Paper.
• Due to the newly formed constitution, and the country is segmented into states, there is a significant boom in investments and infrastructure development.
• Nepal's proximity to both India & China opens up various business prospects and opportunities.
• Since 1996, Nepal's bilateral trade with India has grown sevenfold.
Benefits and advantages that exhibitor's will accretion from Nepal 5P, an allotment of several others, are:
• Tracing accepted abstruse advancements.
• Remaining advanced as a `way because of the antagonism worries.
• an accomplished adventitious to an arrangement with key players of the trade.
• Adding your amount to the access of bazaar activities.
• authoritative wide-spread absorption and allure to your complete.
• Strengthening relationships with absolute and new shoppers.
• Educating the assembly forth with your latest innovations.
• Centralized Location.
• This account can adapt you to accessible absolute channels of communications with abounding Industrial firms demography allotment at the show. you'll be able to actuate your business desires and abeyant affairs by acknowledgment reside demonstrations, accouterment, and services.
If you want book a stall or if you are a service provider, Click Here
Event Contact Form
NEPAL PLASTIC
Plastic Accomplishment Machines & Recycling machines are the charge of the hour in Nepal, as added than 200 bags of artificial decay is generated accustomed and all the above-automated segments of Nepal such as Agriculture, Garments and Food & Beverages all crave artificial on an above scale. Nepal imports artificial abstracts & accouterment account about 22 Billion rupees annually.
NEPAL PRINTING
As per statistics, printed actual avalanche beneath the Top 10 exported items from Nepal. Nepal imports a lot of its Press Accouterment &Equipments from India & China. With the growing ability on the accent of printing, abounding manufacturers are advance in acceptable superior accouterment &equipments. It is the absolute time to accomplish a bastion in the market, as there are bound companies bartering accouterment & equipment.
NEPAL PACKAGING
The Packaging Industry of Nepal is analogously added developed than its co-related industries, with manufacturers accomplishment films, pouches, and corrugated boxes. But there is still an immense appeal for Machine Manufacturers and accessories providers for absolute-machines.
NEPAL PAPER
The Paper Industry of Nepal over the years has mostly been about Handicraft Lokta Paper and Writing Paper. As the acquaintance a part of humans increases and as technology continues to accommodate the country, stakeholders in the Paper & Label industry accept the best befalling in their easily to analyze what the industry has to offer.
NEPAL PROCESSING
The processing industry is of astronomic acceptation for Nepal's development because of the basic linkages and synergies it promotes amid the two pillars of our economy, agronomics, and industry. An archetype about-face from the acceptable to automated processing and a fast advance in the processing sector, that is capital in every industry is the charge of the hour for Nepal. The processing area has a continued way to go in the agreement with abstruse and avant-garde advancements.
Futurex
Let's Build The Future Together
ADDRESS
E-52, 1st Floor, Kalkaji, New Delhi – 110019, India
PHONE
011 26224721 – 23 – 23, +91 9810 855697
E-MAIL
info@futurextrade.com
Media Space
ADDRESS
101, JDA COMPLEX, BAGH DURBAR, KATHMANDU, NEPAL
PHONE
+977 1 4263715, +977 1 4263795
+977 9801171141, +977 9851067384
E-MAIL
info@mss.com.np
Disclaimer:The information furnished has been collected from varied sources, and hence, is subject to change. To confirm the show schedule kindly contact the show organiser.