Event Navigation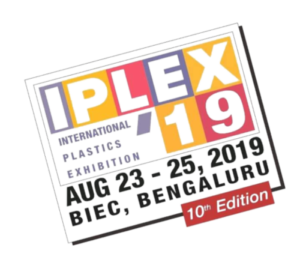 Iplex 2019 Bangalore
IPLEX 2019,South India Largest Plastic Exposition which is Periodically held once a year in major centers of South India- Bengaluru, Chennai, Hyderabad, and Kochi.
The event provides a common Platform for Participants in the plastic industry– Manufactures, Dealers, Buyers and end-users. The event is also widely renowned for helping participants stay updates with the latest technological trends.
Organizer
IPLEX is organized by following non-profit apex bodies of south Indian plastics associations and a central institute
KARNATAKA STATE PLASTICS ASSOCIATION (KSPA)
THE TAMILNADU PLASTICS MANUFACTURE'S ASSOCIATION (TAPMA)
TELENGANA AND ANDHRA PLASTICS MANUFACTURE'S ASSOCIATION (TAAPMA)
KERALA PLASTICS MANUFACTURE'S ASSOCIATION (KSPA)
CENTRAL INSTITUTE OF PLASTICS ENGINEERING AND TECHNOLOGY (CIPET)
Why exhibit at IPLEX India ?
Meet over 30,000 business visitors to strengthen and build relations
Fast growing market
Benchmark, complete and increase market share
Reinforce existing business relationships & customer loyalty
Find opportunities to explore new channels and generate sales leads
Source new agents, distibutors and partners
Promote latest products, services and technology
Accelerate the buying process by resolving queries face to face

If you want book a stall or if you are a service provider, Click Here
Which Type of Exhibitor Come To IPLEX 2019
EXHIBITOR PROFILE
EXTRUDERS
FILMS SHEETS
PIPES PROFILES
MOULDING
INJECTION BLOW
ROTO MOULDING
RAW MATERIALS
MASTER BATCHES – COLOUR FILLER BIO
OXO COMPOUNDS – PVC STABILISERS
ENGINEERING ADDITIVES PERFORMANCE AIDS
PRINTING AND CONVERTING
PRINTING FLEXO & GRAVURE SLITTING & REWINDING
LAMINATING DECORATING STITCHING WELDING
BAG & POUCH MAKING TENSION CONTROLLERS
WEB GUIDES INSPECTION GADGETS
ANCILLARY EQUIPMENTS
DRYERS DE HUMIDIFIERS DOSERS
CONVEYERS PLATE & CYLINDER MAKING
PNEUMATICS & HYDRAULICS
SPARES & UPGRADES
HEATERS PUMPS MOTORS
CONTACT DETAILS
Karnataka State Plastic Association (R)
No.F.F.5, Garment Complex, Rajaji nagar Industrial Estate, Bangalore – 560 010.
Tel: +080-23100434, 41523232
Helpline: +91 78290 14444
E-mail: info@iplex19.com
Website: www.iplex19.com
For More Information:
Mr.Hariram Thakkar
Convenor – IPLEX 2019
Mobile No: +91 9845050290
Email ID: convenor@iplex19.com
Mr.Vijayakumar
President – KSPMA
Mobile No: +91 9341212602
Email ID: president@iplex19.com
For Space Booking:
Mr. Senthil Kumar.N
Project Manager
Mobile No: +91 9884106899
Email ID: marketing@iplex19.com
For Stall Inquiry:
Ms. Padma
Coordinator
Mobile No: +91 9379555484
Email ID: accounts@iplex19.com
Disclaimer:The information furnished has been collected from varied sources, and hence, is subject to change. To confirm the show schedule kindly contact the show organiser.