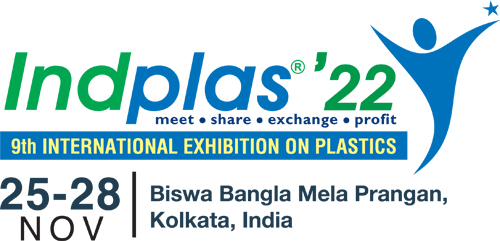 INDPLAS 22 KOLKATA
ndian Plastics Federation (IPF) is regarded as a torch-bearer of plastics industry and trade. While going down the memory lane we respectfully remember the seven stalwarts of Plastics Industry – Late C. L. Gupta, Late G. Khemani, Late B. L. Pachisia, Late C. M. Srimal, Late R. G. Gupta, Late G. D. Damani and Shri G. N. Periwal and salute them for their vision, wisdom and far-sightedness for the establishment of IPF way back in 1958. During this long span of over five decades the Federation has been successful in its endeavour to be reckoned as one of the main forums of Plastics in India. Indian Plastics Federation (IPF) was set up in 1958 with the objective of promoting the plastics industry in India and particularly in Eastern India. Regarded as a torch-bearer of plastics industry, its members include mega-projects like Reliance Industries Ltd., Haldia Petrochemicals Ltd., and Indian Oil Corporation Ltd. etc. Large, small, medium and tiny sector units, dealers, distributors and machine manufacturers are also their members. In that way it is an integrated body of all the facets of plastic industry. All of them are properly represented in the Executive Committee which has over 750 members including associations from different states.
The Federation is dedicated to actively uphold the interest of the plastics industry and trade in India and make all out efforts for the growth and development of this sector for other Five decades. IPF is also the founder member of Plastindia Foundation, the apex body of plastics industry in India.
Disclaimer:The information furnished has been collected from varied sources, and hence, is subject to change. To confirm the show schedule kindly contact the show organiser.