Event Navigation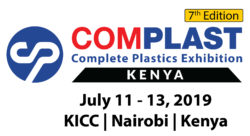 COMPLAST KENYA 2019 PLASTIC MACHINERY EXHIBITION
Welcome to the COMPLAST KENYA 2019 Exhibition for Plastic Machinery based on Plastics, Rubber, Packaging and Manufacturing. The major highlight of this edition will be the significant number of visitors not just from Kenya, but from all the neighboring East African countries!
COMPLAST KENYA will be leveraging the support of leading chambers in Kenya, Tanzania and Uganda who have already committed their support to promote the event. This will help widen the reach of our promotional efforts and bring in visitors from all the East African countries – Kenya, Tanzania, Burundi, South Sudan, Somalia, Malawi, Madagascar, Zambia, Seychelles, Ethiopia, Rwanda and Uganda.
The largest Sea Port in Mombasa, the country is the largest incoming source of products by sea to the East African region from Arab countries, Indian Sub-continent, Europe & Far East.
Kenyatta International Conference Center (KICC)
The Kenyatta International Conference Centre (KICC), is one of its kind in Kenya, which was purposely built for Conference tourism in 1969. The 30-storey landmark of Kenya's skyline is the only building in the region with a helipad, boasts of a rich MICE heritage and has hosted high-profile conferences that have shaped the destiny of mankind in all sectors of the economy.
Which Industries Focus COMPLAST KENYA 2019 ?
The prime focus of Smart Expos & Fairs is to facilitate business convergence for categories such as Plastics, Rubber, Packaging and Manufacturing, which are among the fastest growing economies in the world. SEFIPL organizes professional trade shows in the field of Plastics, Rubber and Manufacturing especially in developing countries like India, Sri Lanka, East Africa, Myanmar and Vietnam. SEFIPL members have vast experience in marketing and in the field of Plastics and Packaging. The company is based out of Chennai.
Exhibition facility
The facility has 8 meeting halls and exhibition areas. The meeting rooms are fully equipped with cutting edge, technologically-driven installations.
KICC has ample parking and office space for both delegates and event organizers. Similarly, the Centre has round-the-clock security surveillance to ensure maximum safety for its customers.
The Centre has hosted high-profile conferences like the ICANN Conference, AGOA Conference, 5th MIM Pan African Malaria Conference, 7th Global Conference on Health Promotions, the 2nd East African Investment Conference, World Bank, COMESA, World Women Conference, 3rd Global YES Conference, 56th Commonwealth Parliamentary Conference, ISOCARP Conference, among others.
If you want book a stall or if you are a service provider, Click Here
Location
Kenyatta International Conference Centre (KICC)
Harambee Avenue,
Nairobi, Kenya.
How to reach…
By Air:
Regular flights to Nairobi are operated by Ethiopian, Kenya airways, British Airways, Egypt Air, Etihad Airways, Fly Emirates, KLM Qatar Airways, Swiss International Airlines and Turkish Airlines. Kenya Airways is the national airline and travels throughout Europe, Africa, and the Asia-Pacific region.
Nairobi's main airport is JKIA Jomo Kenyatta International Airport (IATA: NBO), southeast of the city centre.
To and from the center, you can take Bus #34J, 33B, 33MKR, 33UTW, 15, 33C, 23KS (every 15 mins) to the International Airport from the Kenyatta International Conference Center (KICC).
By Train:
The city is also accessible by train from Mombasa, with three times a week arrivals and departures at the Nairobi Railway station. The trains only go east to Mombasa. There are 3 classes: First, Second and General.
First and Second are sleepers. First have 2 seats in a cabin, Second have 4. In Second Class genders are separated unless you purchase the entire compartment of 4 seats. First and second-class includes bedding, breakfast, and dinner.
Both can be purchased without bedding or food. Tickets have to be booked through the office on Station Road in south-central Nairobi, or online. The 1st and 2nd class train fares are 2 or 3 times more than the bus fare. But the 3rd class fare is less than the bus fare.
By Bus:
Kenya's bus system is mostly reliable. There are many bus companies that have routes going to and from the country's different cities, including Nairobi, the center of the bus network.
Organizer
SMART EXPOS & FAIRS (INDIA) PVT. LTD. (SEFIPL) has vast experience in handling domestic and international exhibitions. 13 years of experience with associate company Enterprising Fairs India Pvt. Ltd are organizing international exhibitions in South East Asia & Africa.
Last 12 years of outstanding expertise and experience in organizing B2B expos and marketing initiatives in India.
Supported By – Kenya National Chamber of Commerce and Industry – KNCCI
As the largest and most influential business association in Kenya, the Kenya Chamber of Commerce is the voice of business in our region and is proud to be associated with business in Kenya. A strong Kenya Chamber is key to unlocking our national and international trade potential.
My participation in the re-launch of the Kenya National Chamber of Commerce and Industry (KNCCI) in July 2014 marked the genesis of bringing to life this global movement. Chambers worldwide are known to be key pillars in linking private and public-sector players with a desire to grow businesses and promote economic growth. The unrivaled role in economic diplomacy goes a long way in promoting international trade.
The Plastics Export Promotion Council
The Plastics Export Promotion Council (PLEXCOUNCIL), the Ministry of Industry and Trade is the government responsible for the advancement, promotion, governance, regulation, management and growth of industry and trade.
The former Ministry of Trade has its origins in 1945 with the formation of the modern National Unification Cabinet, and became a ministry in its own right in 1955.The Ministry of Trade merged with the Ministry of Industry in 2007 to form the Ministry of Industry and trade. The current Minister of Industry and Trade is Vu Huy Hoang. Ministry main offices are located in Hanoi.
For Space Booking Contact…
No.116,Manickam Lane,
(Near Hotel Zen Garden) Mount Road,
Guindy, CHENNAI 600 032,India.
Phone: +91 44 2250 1986 / 87
Mr. B Swaminathan
+91 97890 95247
Mr. Narendar Bafna
+91 99529 66752
Mr. Sasi Kumar
+91 90030 25103
Disclaimer:The information furnished has been collected from varied sources, and hence, is subject to change. To confirm the show schedule kindly contact the show organiser.